Thursday, June 9th, 2005
---
1:11 am
A post for Molly, who has graciously allowed me into her house and family for the past month and a half. I love you pseudo sister! Sorry I ate that pumpkin muffin/all the food in general...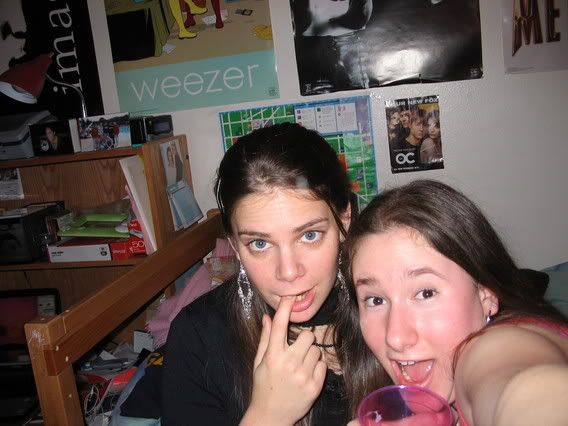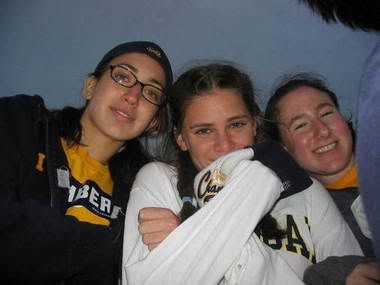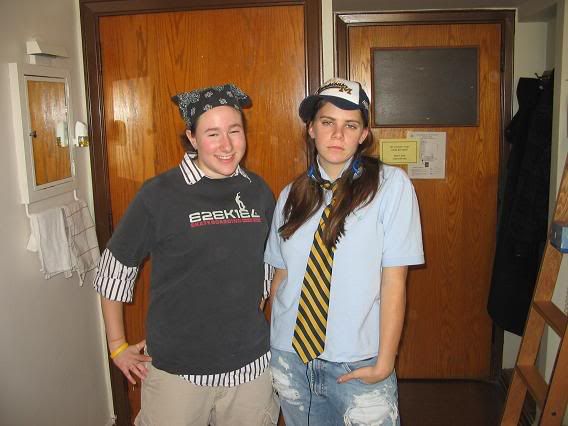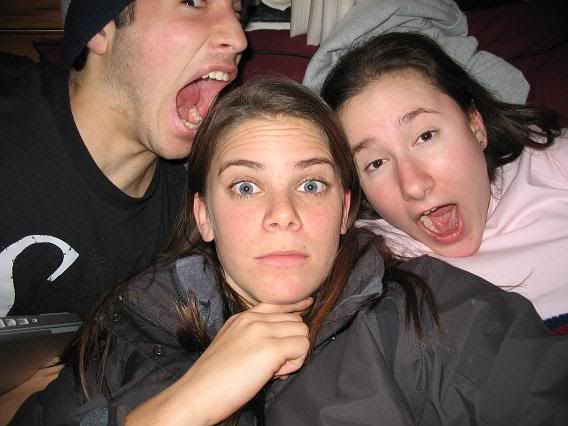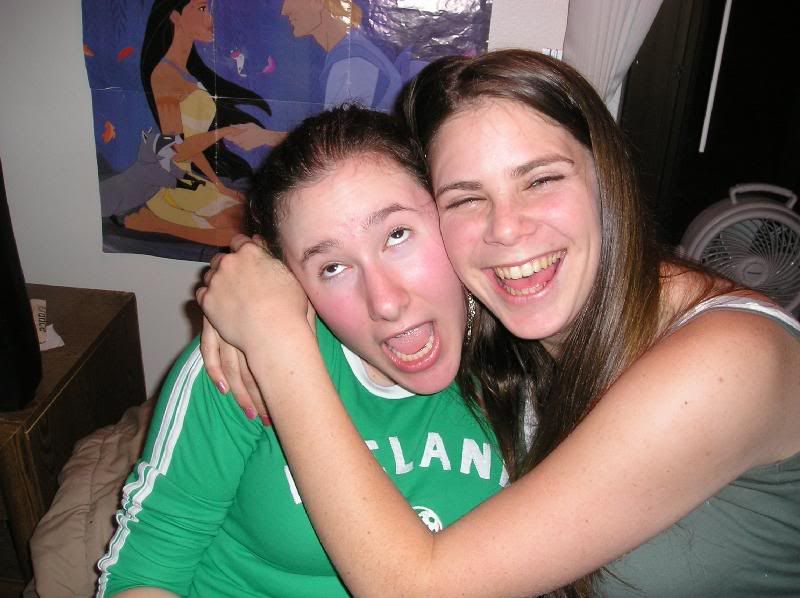 current mood: Molly
Sunday, June 5th, 2005
---
6:23 pm
For Madame Kat:

The six songs I'm feeling lately...

1. "Victime de la Mode" MC Solaar
2. "Burning Down the House" Talking Heads
3. "Under Pressure" David Bowie/Queen
4. "Retany" Tarika (from my 'Women of Africa' cd)
5. "This Will Be an Everlasting Love" Natalie Cole
6. "Michael" Franz Ferdinand
7. Warren Hecht

6 people I'd like to do this? Do I even have 6 friends?
Uhhh Leah, Natalie, Erica, April, Brett, Lizzie

current mood:
lazy
Wednesday, June 1st, 2005
---
12:07 am
Well the Sam/Lewis/Whorbo Memorial Day extravaganza has officially come to an end. What a time. What a group. I LOVED seeing all you guys, it really made me realize how much I missed you all. Molly's house/my dungeon seem so quiet and empty and cold now. No more snuggles. No more "Laguna Beach". No more toilet escapades.

Aside from the great weekend, I officially have $60 left in my bank account which somehow I will have to survive on for the next week and a half before I go back to California. "$60 is a lot of money," you might add. Figure this: I need about $20-25 for the metro in that time period, $15 for a ticket for the event I'm planning, and perhaps $7 for "The Sisterhood of the Traveling Pants". That leaves around $13 for food money for a week and a half. I already have plans to go out to dinner on Thursday so FUCK. Plus, I need to renew my license for $25 by the time I get back in order to work. FUCK AGAIN. Suggestions anyone?

My proposal was due today so at least that is out of the way. I can't believe my time in DC is starting to come to an end. I was just starting to fit in and get into a routine.

Then again, I'm home to California, right back where I started from. California, here I come. Shit I'm such a nerd.

P.S. I had the big talk with the certain individual and the status is now clear. Cryptic enough?
Monday, May 23rd, 2005
---
1:53 am
I saw Crash tonight with Molly, Mariel, and Gabby and it made me realize that we're all racist assholes. That's all I really have to say about that.

Oh and Kat! I got your message but it was cutting in and out so I barely understood. But if I understood what I thought I did...that's awesome!

HAPPY B-DAY NAT I LOVE THEE!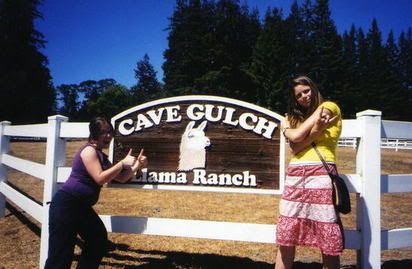 Friday, May 20th, 2005
---
4:56 pm
Dude--I found out yesterday that I will be writing a grant poposal for $40,000 on behalf of the IRC. I have no experience in grant poposal writing. Previously my boss had told me that the official intern and herself would be working on it. Now, since she apparently has great confidence in me, it's my responsibility. I have three weeks. And I couldn't be more excited!!

My boss also has decided that I'm gonna plan this benefit concert for the IRC. It's a band composed of Sudanese refugees that we resettled. It's on June 3rd and the tickets cost $15. I have to advertize it and sell 250 tickets so if you are in DC on this date you MUST attend.

Plus I have a project with the Arlington Diocese Refugee Services doing a brochure. I hope I have enough time to do all this by June f'in 10th.

In other news, Molly, April, and I saw "The Interpreter" a couple days ago. Whorbo I don't know what you're talking about! I <3ed it. Okay, so it was very stereotypical in the whole Africa angle. But I'm mad at Jezequel right now so I don't care. Okay, I'm not gonna lie, I really just loved the romance/Nicole Kidman's outfits/the UN. Okay, so I really just want to be Nicole Kidman in that movie: cool style, UN job, raised in Africa, and ex-lover that is an African revolutionary leader.

Oh and Naima won on top model!!! Yessssss. Detroit-what. PS Brett you were totally right, she did go to Cass Technical School in Detroit.

OH! And last night I was hearing scratching noises and I turned on the light AND IT WAS A FREAKING MOUSE. A MOUSE IN MOLLY'S HOUSE. I debated screaming/not screaming but the mouse took matters into its own hands and ran under the crack in my door to escape. I had nightmeres about it all night. Today, me and Molly set mousetraps and I snapped them on my fingers like twelve times.

Alas.

current mood:
uncomfortable
Tuesday, May 17th, 2005
---
12:11 am
- Toby Keith sucks...
Day 1 at the International Rescue Committee was awesome! First I sorted clothes/set-up them up in a changing room area for a father and daughter from Sierra Leone. They were both so funny--we laughed together at some of the crazy clothes that people had donated. Then I worked on grants proposal writing and research. That will be such a valuable skill for me in non-profit work. I love my boss. She is so positive and kind to me. She keeps on making comments about her injury/limp and I keep on wanting to ask! Car accident? Landmine? I need to knoooooooooow.

I also got a new volunteer job in Arlington, Virigina with the Diocese Refugee Services. That makes me feel weird because I'm not religious and everyone that works there is Catholic. I played with this uber-cute little boy from Somalia in their office today. I'm going to be going there 2-3 times a week to conduct interviews with refugees (for a pamphlet) and to help the refugee clients create resumes. So much work but so awesome!

Today is my sissy's 22nd birthday. Love to my rasta surfer woman.

I'm so exhausted, I had such a busy day. I love DC, I miss Ann Arbor, and I crave California. Such wild emotions...

current mood:
excited
Thursday, May 12th, 2005
---
12:11 pm
I'm suffering from double missing: I miss my divas/family in California and my homies from Michigan. As soon as I figure out how to do that linky thing I'm going to do a montage of all the faces and places of U of M.

Anyway, I met the woman I'm working for at the IRC and she's virtually me in forty years. She is obsessed with Africa (Senegal especially) and has been working in non-profit her whole life. She also has a really bad limp but I don't know what that's about. I start on Monday, and she's going to send me to classes for grant writing/research which is AWESOME because that is such a valuable skill.

Last night April came over to Molly (and my?)'s house to watch America's Next Top Model (sooo good! and Keenya SUCKS) and American Idol (haha Anthony). Then we watched the last episodes of Sex and the City and I remembered how much I love that show. April left and then Molly and I watch three more episodes into the wee night. Is 'wee' a word?

We all need to figure out a better way to keep in touch. I haven't talked to Kaleigh, Leah, Steve, or Evan in years. This sucks!

Here's something to cheer us all up: Me + Jim Bean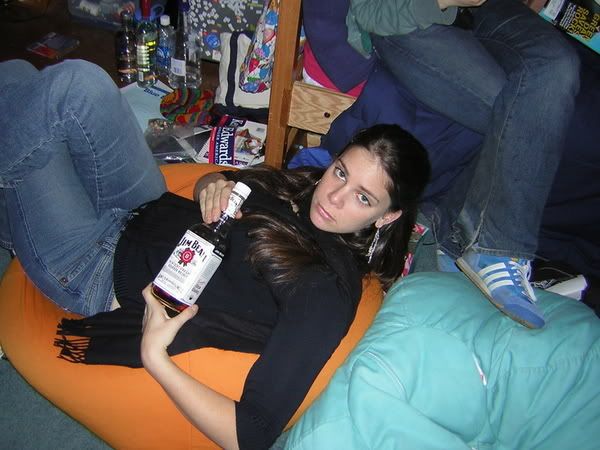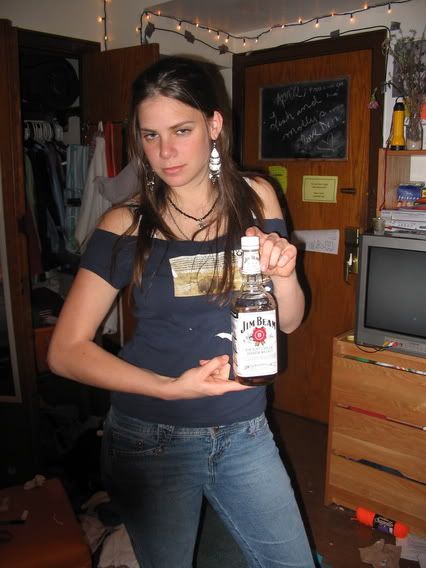 Friday, May 6th, 2005
---
8:46 pm
Thank you all for your greaaat birthday wishes! I love you guys. I had an awesome day: a call from Refika (she got her green card!), a CARE conference, a America's Next Top Model scavenger hunt, Chinese food and America's Next Top Model, getting turned into an African princess, hanging and eating cake with Molly, April, Gabby, Luke, and Mariel...so awesome.

I love being in DC, so close to Kyle Brazil and our nation's political soul. Fuck I'm corny.

Molly is bedridden and on major Vikadin (did I spell that right?) so I feel really bad for her. Send her good wishes!
Monday, May 2nd, 2005
---
11:44 am
Jezequel gave me two B+'s. I hate him.
Sunday, May 1st, 2005
---
11:21 am
We made it, we made it. 11 hours of driving! I drove the last shift, at 2 am (hyped on caffeine and sugar)... I was tweaking out for sure! I hit a cone that was lying in the middle of the Holland Tunnel. But we made it.

Mr. and Mrs. Emma are so cute and awesome! Whorbo is a perfect hybrid of them.

So far we've: hung out in the village/ate brunch with Mariel/eaten cupcakes, gone to a photo exhibit, gone shopping (H&M!), eaten Chinese food in China Town, walked to Little Brazil, went to an off off Broadway show, and watched two movies. Today we are meeting my best friend CRISTINA KIM in Central Park to have a picnic and tonight we're getting drunk and riding the Staten Island Ferry. Good times.

Apart from all this, I miss people. Terribly. Sam, Lewis, Kat, April/Molly/Mariel/Gabby (though I'll see you in a few days), Alex, Yelena, Evan, Steve, Ron, Brett, and more.

Quotes from watching Y Tu Mama Tambien:
"They're so hairy! They look like trees!" -Leah on penises
"I don't remember this! And I remembered all the other sexy scenes!" -Leah on the orgy scene
Wednesday, April 27th, 2005
---
7:29 pm
NO SLEEP TILL...................................................BROOKLYN!

At 1 pm tomorrow, I am embarking on a 14 hour road trip to NYC with Whorbo, Leah, Jenna, and Kales. Holy shit.

Things I did today:
1) Woke up at 6:30 am for a breakfast and then goodbye/breakup
2) Took my last final and said goodbye to the professor of my heart
3) Talked with an old creature from my past, who was here to pick up the foof
4) Went to Toledo and to: see my family, go to the kids museum with Lewis/Sam/Molly/Leah/Whorbo, and eat a grinder (?)
5) Packing
6) Sleepover party

I think I'm gonna listen to Muse and cry
Monday, April 25th, 2005
---
9:50 pm
En Vogue are sassy as hell...the early '90's were all about girl power.

I'm procrastinating right now if you can't tell. I'm dreading the goodbyes/papers/tests of the next two days.

My room sucks. It is empty as hell and echoey and no one wants to visit me in its depressing state.

I'm studying in the b-school all alone and I totally thought a UFO just landed outside. Turns out it was just a car's lights from the parking structure. Fucking aliens. I'm sick of them oppressing me all the time.

Earlier, me and Whorbo were kicked out of one of the study rooms in the library by some bitchy b-school chicks. Why? Maybe because we're so obviously not b-school kids (thank god). The point is, however, that how-dare-they. We are the QUEENS/RULERS/DESPOTS of this damn library. I know the workers here by name, I know all the ways to steal free food from the student lounge, I've memorized the library hours...I have chairs here that have the outline of my butt imprinted in them for godsakes!

On a highly different note, pictures from the Apocalypse Party:

A sparked robot, a goth Sam, and a drunk-a-lunk Molly: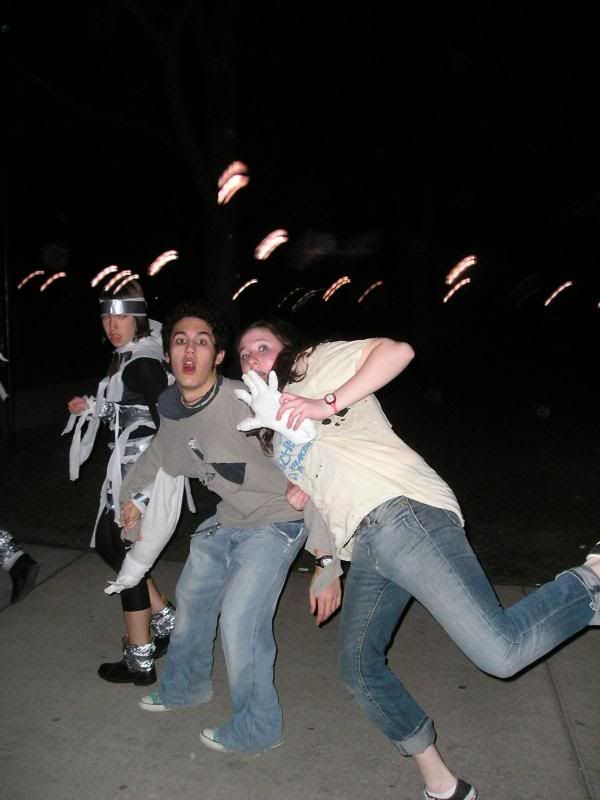 Enjoying the atmosphere of the party: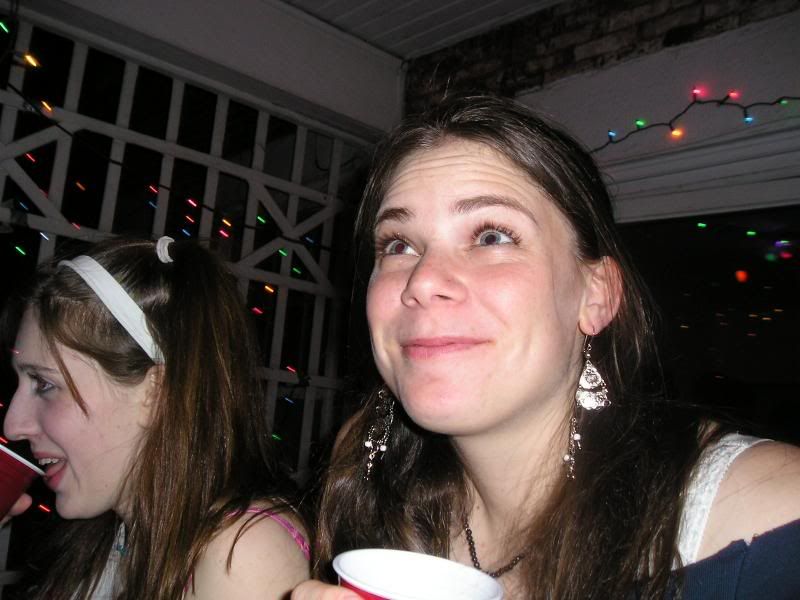 current mood:
sleepy
Thursday, April 7th, 2005
---
1:41 pm
Only one full week left in school, how fucking crazy!

Me, April, Steve, and Molly's French play is on Friday at 4:30 in the RC Auditorium. YOU ALL SHOULD BE THERE! No excuses! Mireille is going NUTS about it. I hope she'll be okay...

Monday/Tuesday/Wednesday's Doctors Without Borders extravaganza was awesome. I idealize those guys, I mean I've read their books and essays...and I got to be in the same room as them and ask them questions! Also Fabrice and Michael were really hot and French, although they also reeked of cheap alcohol and cigarettes.

Here is a couple pictures of drunken fun (that is St. P's Day) in me and Kales' room...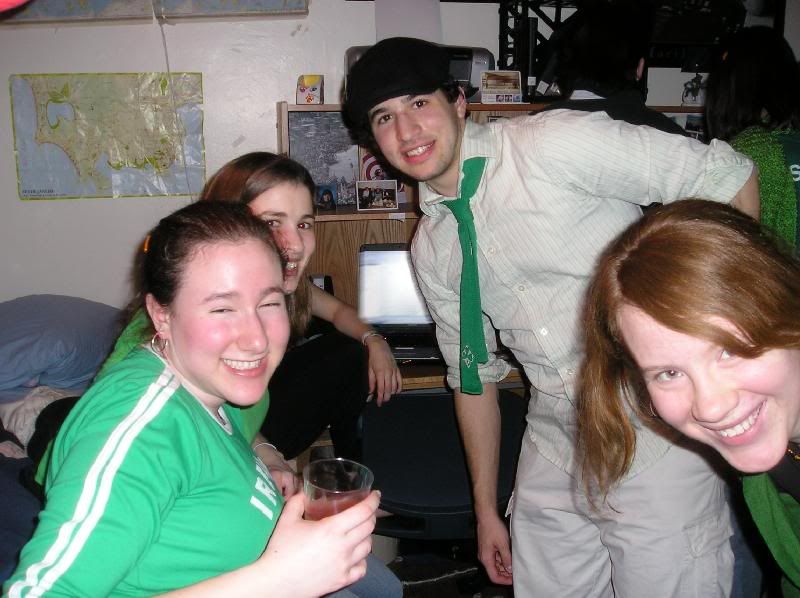 And of course, the crew being typical college students on the Diag last week...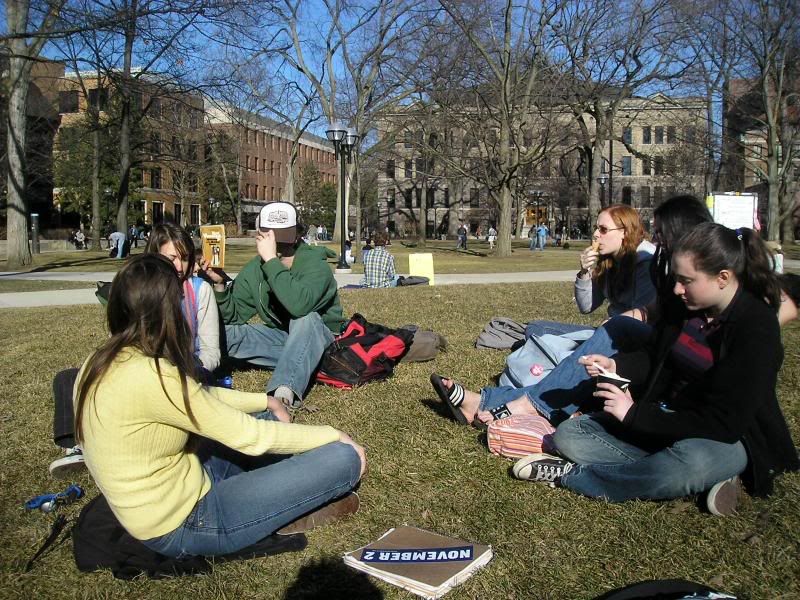 current mood:
cheerful
Friday, April 1st, 2005
---
11:03 am
I have so much stuff going on this weekend...DP Day, LUNGevity, going to ValueWorld with Mireille (what???)

I accidentally stole Mireille's keys last night and she sent me like five e-mails this morning tell me that I owe her three or four more decaf double-shot espressos. Damnit!

I'm not gonna lie, I can't wait until April 27th and I can just focus on taking my 13 hours bus to D.C. I'm tired of the schoolwork and the drama, especially concerning a certain individual. Plus, this summer will be AWESOME living with Molly. Refugee work! A cool new city! Molly's family! Gabby! April! Mariel! The only bad thing is that I just figured out that Elena is graduating in June. I'm not going to miss my sister's college graduation so I guess I'll fly back home for the weekend.

Fuck I'm late meeting Whorbo at the gym.
Friday, March 25th, 2005
---
3:42 pm
I'm in Ohio and my toes are cold. How exciting is that?

I'm so happy right now in my life that I think it means that I should study more. Like way more. I need to buckle down for this last month.

Okay, for DP I get to do construction and DEMOLITION! How pumped am I for that? Is anyone else in my group (12)?

I <3 Mireille and I can't wait to party with her. I think she thinks I'm high all the time. It's really just my personality.

Sam Tai, I wished you posted the UM pictures online. That would be that creepy fake cherry on my Sundae for today. I love you by the way.

I love you too Leah, GOD.

current mood:
chipper
Wednesday, March 23rd, 2005
---
11:24 pm
- Tag team back again
So yes, the journal is back. Rejoice my young ones...

Reasons why I'm happy today in no particular order:
1) NO CLASS TOMORROW AND MOVIE MARATHON IN MOLLY'S ROOM: Clue, Go, Run Lola Run
2) Going to Ohio to see the fam all weekend for Easter
3) Great conversation about refugee work with Dr. Jean-Herve Gilbert Jezequel
4) MSF/Doctors Without Borders conference in two weeks! (I must network)
5) Leah (she made me put that)
6) I'm for sure living in DC with Molly this summer working at the UNHCR (if I get the internship) and/or the IRC
7) MARIEL (way more than Leah)
8) The grapefruit juice I'm drinking
9) Me, Brett, Mariel, Leah, Lewis, Stevey, Sammy, Emma, Molly, Kat, April, Leah and I are all about to watch the Lizzie Mcguire movie...shit there are a lot of people in this room
10) My BEST FRIEND in the entire world, the one and only X-Tina
11) Africa
12) My writing prof wants me to enter a $1000 writing contest on community service
13) The fact that Steve is knitting his doggy a sweater right now

I miss talking to my family. They're all in Mexico right now without me, and I have so much to tell them.

AAAAH. AHHH. I forgot how to write in these.

St. Patty's Day was awesome! Hungover for two days was not so awesome.

AHHH. AHHH...
Tuesday, March 8th, 2005
---
6:09 pm
Back in the artic land. So, according to Yahoo weather, currently 71 degrees in Orinda, California and 22 degrees in Ann Arbor, MI. Fuck.

I had an awesome break, I love Northern California. I love my family. I love my friends. I loved sharing all that with Brett, even though I was an eggy bagel/agro sometimes. Sorry, Nor-Cal slang.

I quit my other volunteer work and signed up with Detroit Project instead. IT IS SO MUCH BETTER. I loved it. I got this really sassy Mexican girl named Joanna who waved/snapped her hands in the air when she wanted to make a point and who said, "I'm not going to work, I'm going to have a rich boyfriend." She's in third grade by the way.

I called UNHCR yesterday and left a message but still no word. Rarr to them, I'll have to call them back later this week. But I did hear from the IRC today (refugee organization I worked with last summer...theirc.org) and they wanted to know how I was doing! How pleasing because I thought they hated me.

Brett Beckerson, I love thee. Good luck on Thursday. My thoughts are with you. I will come visit.

A photo by Brett of me and Refika <3 :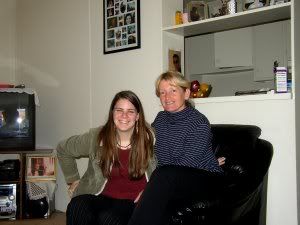 current mood:
cold
Friday, March 4th, 2005
---
12:56 pm
I think these pictures say it all...Mireille took them, after all

Me and Brett laughing at Madame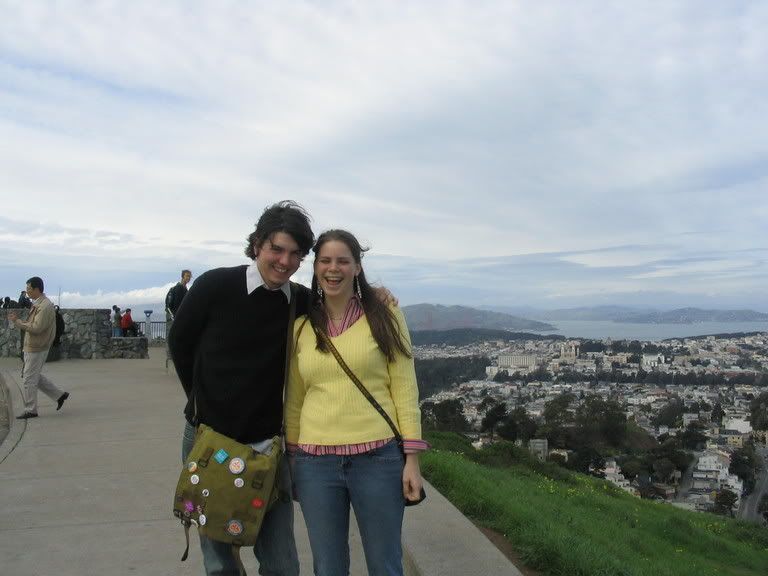 Me showing my beautiful city to Brett (no, we didn't know Mireille was taking this picture)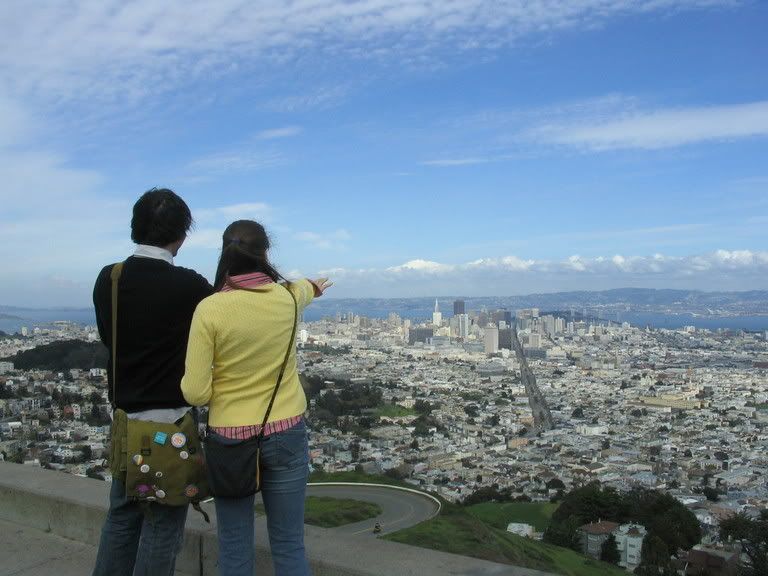 ME AND MIREILLE!!!!!!!!!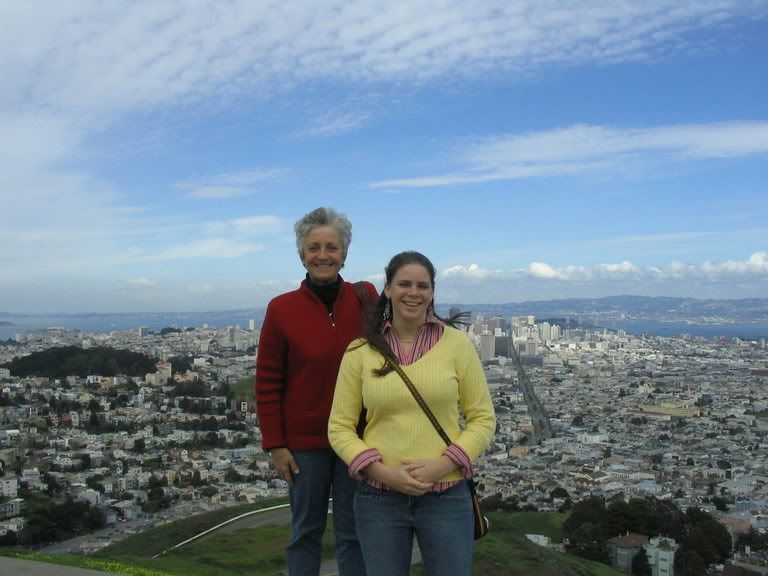 Wednesday, March 2nd, 2005
---
10:14 am
HHHHHHHHHHHHHiiiiiiiiiiiii everybody.

I took Brett to the Castro yesterday and he was overwhelmed with all the gay men. Old gay couples, young lesbians, transexuals...yes Castro has them all, in multitude.

We also met Mireille for coffee and I almost broke out laughing like 2345 times. She shared some good juicy secrets about who she stays with when she comes to California. Yes, Molly/Steve/April I'll tell you guys, but I don't want to post it here for everyone to read. After coffee, she took us in her BMW up a mountain called Twin Peaks to go to a lookout point. We took many photos and she called me a liar a lot. She then drove us back down to the Castro to drop us off. By the way, Mireille pulled a hundred illegal moves whilst driving and she said to us that if we got pulled over, we should all speak in French.

Brett and I ate lunch in the Castro (Orphan Andys) and then I took him to Union Square, on a cable car, to China Town, and then to Mission (Mexican district) for a burrito.

Two days ago he met one of the Bosnians I help, Refika, and I took him shopping. Well, he took me shopping really.

Michigan people! AMERICA'S NEXT TOP MODEL NEW SEASON STARTS TONIGHT...8 PM ON UPN. I'll be watching that/flipping to Lost and then Alias (Whorboooo).

P.S. Someone named Tommy Dairamando added me on facebook, does anyone know him?

P.P.S. Nat, I love you. We'll figure something out, ok?

current mood:
cheerful
Monday, February 28th, 2005
---
1:03 am
Hi this is Lara and Brett.

We're in my bed, snug as bugs in a rug.

We drove all around San Francisco today with my parents and saw lots of homosexual couples. I never noticed stuff like this before but lately I've been on the look-out. We also ate at an amazing French restaurant and spoke French to the waiter who was hot just because of his accent.

Yesterday we saw Annie/Maren and went to the two best beaches in Santa Cruz. We ate burritos in the sun shine and saw tide pools with star fishies and things that looked like vags.

We have a week full of fun planned, I just hope I have time to write my paper on the genocide in Rwanda. Like I don't know enough about that.

I miss you Michy people. Mireille is meeting me and Brett at 1:00 on Tuesday at a French cafe in Castro (the gay section of SF which makes it super gay). WE'RE SO EXCITED!!!

current mood:
sleepy